CEO1 Storage of small/medium consumables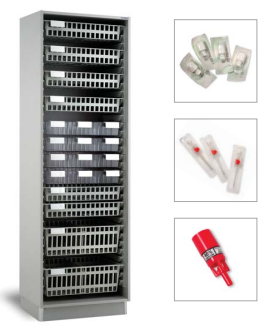 CEO2 Storage of medium/large consumables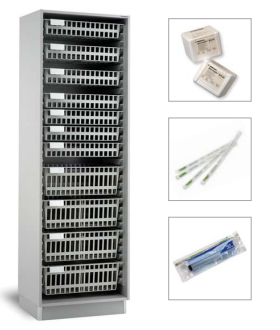 CEO3 Storage of large consumables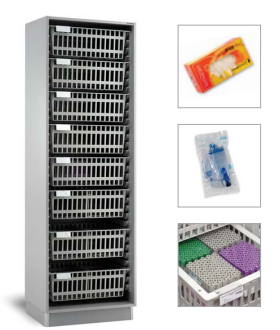 Tall cabinets providing enormous storage capacity with a proven combination of accessories for almost every product, Different accessory combinations are available to order.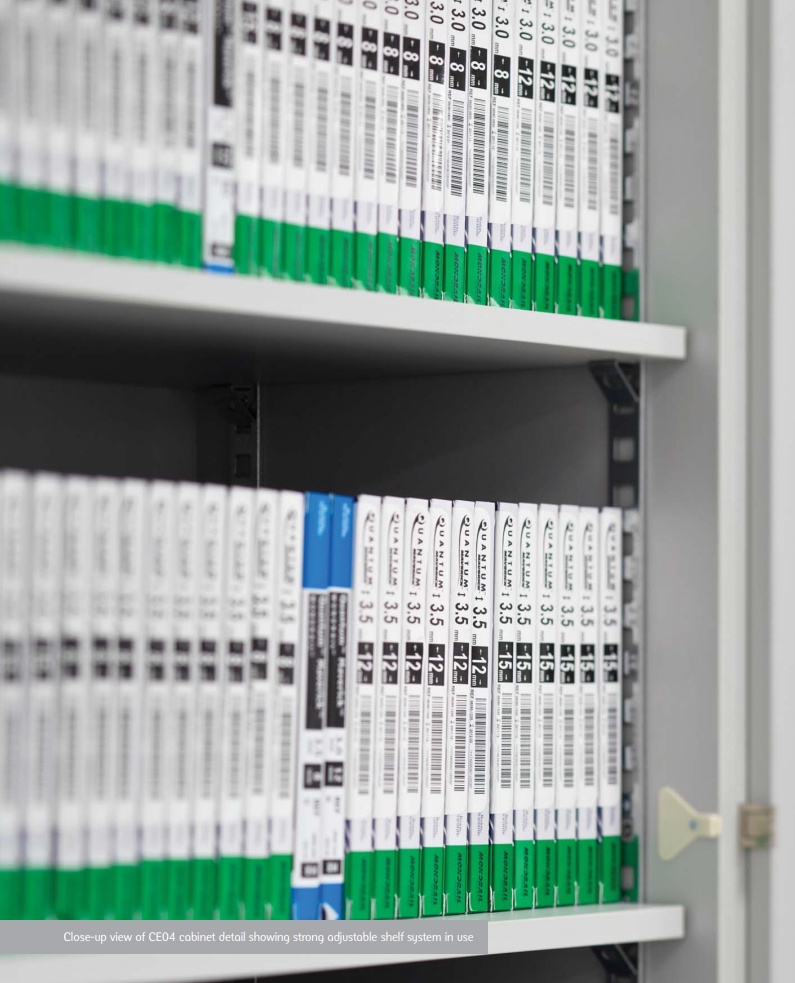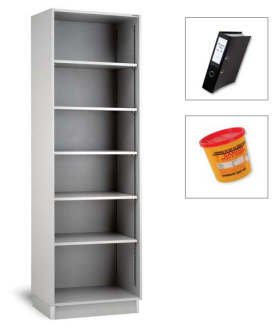 Cabinet with Shelving on heavy duty support system suitable for fluid boxes or bulky items. These cabinets can be upgraded simply at a later date with accessories if required. Push on shelf dividers available for organised storage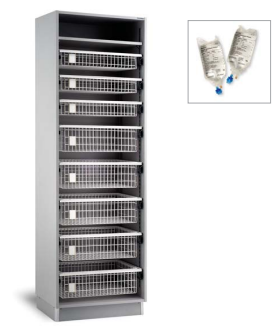 Recommended for clean storage of decanted fluid bags with heavy duty telescopic runners and strong nylon coated wire baskets. Hundreds of these cabinets are in use throughout the UK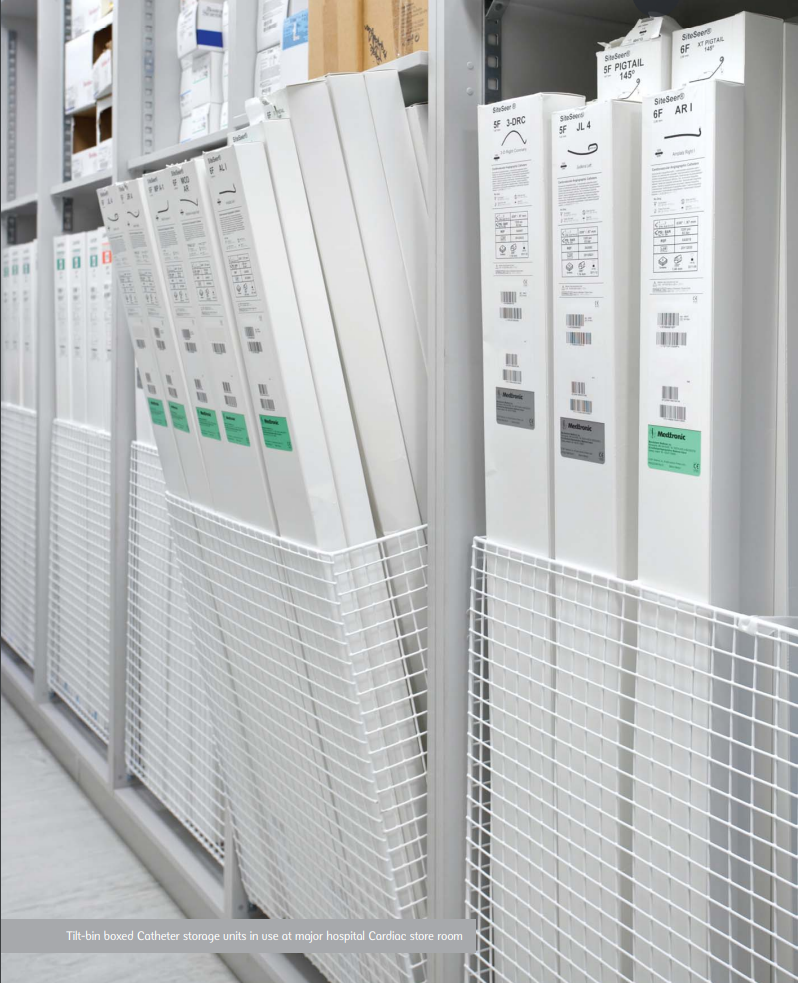 CEO6 Storage Of Endoscopes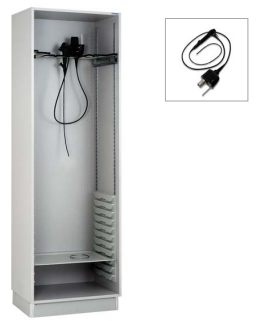 Endoscopic storage cabinet with a telescopic support platform to keep cleaned scopes dry and safe before next use. Multiple holder profiles are available to suit specific scope designs. Special size scope hanging cabinets can be made to order.
CEO7 Storage Of Angiographic Cardiac Catheters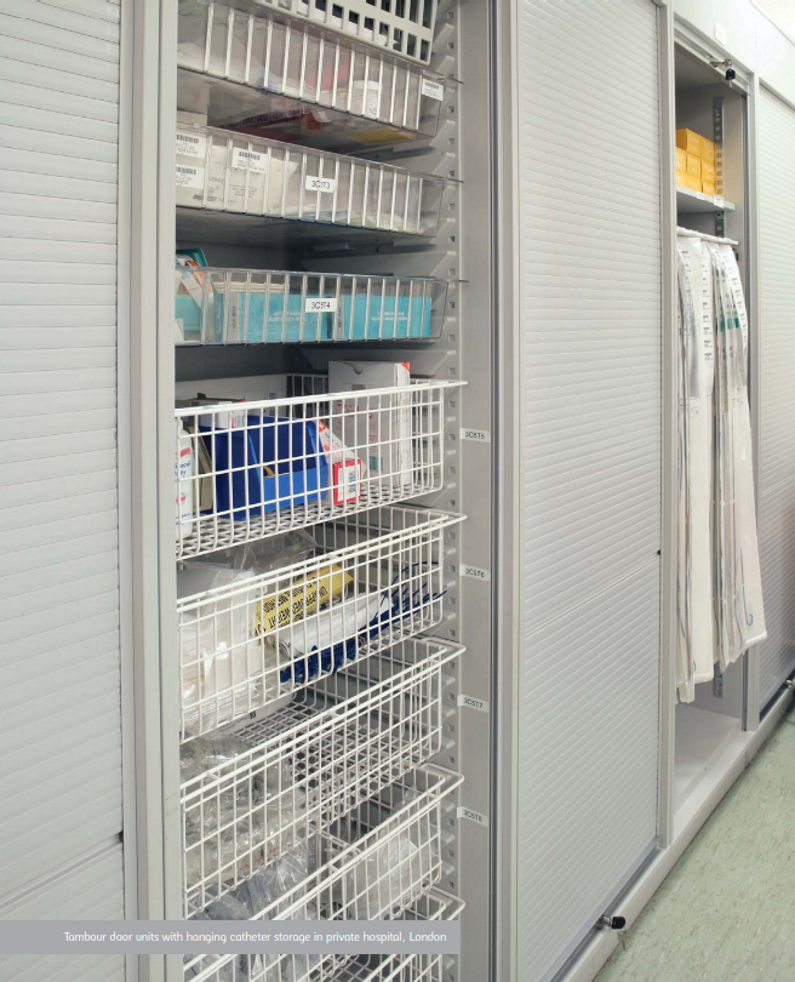 CE08 Storage Of Prosthesis Implants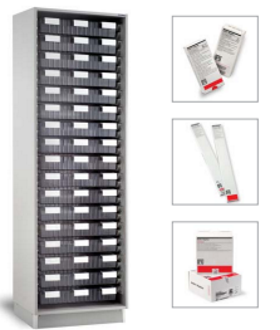 CE09 Storage Of Sterile Dressings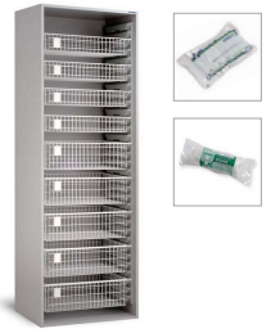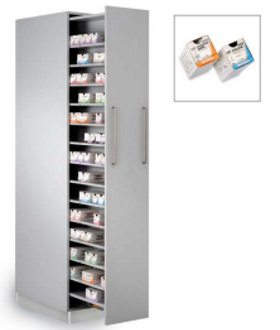 Popular cabinet combinations for specific products. The CE10 cabinet is available as a double sided unit or single sided with deeper shelves when positioned next to a return wall. The Ce10 can also be adapted to store patient CDs very effectively.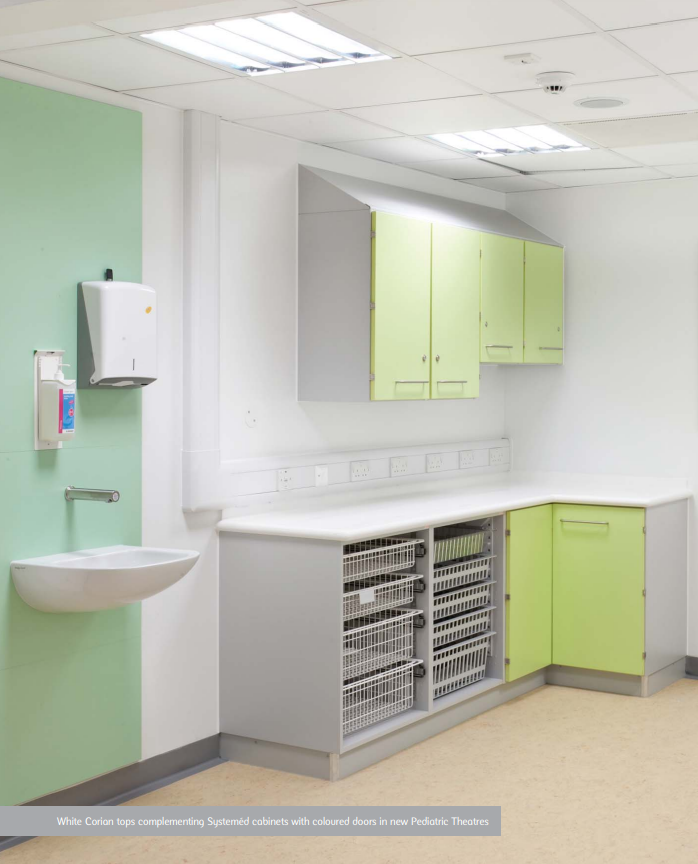 CE11 Storage Of Small/Medium/Large Consumables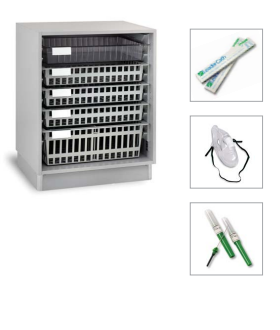 No Clean Utility is complete without a SytemId CE11 style base cabinet. These provide a practical combination of accessories for efficient storage of large and small items. 
CE10 Storage Of IV Fluids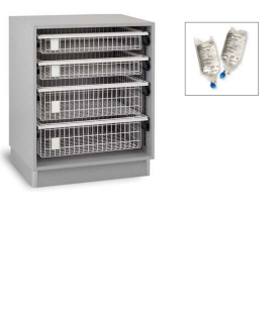 Very useful base cabinet for areas requiring smaller amounts of decanted fluids for combining with CE05 units where fluids need to be kept separate from the main stock (eg: fluids that contain potassium)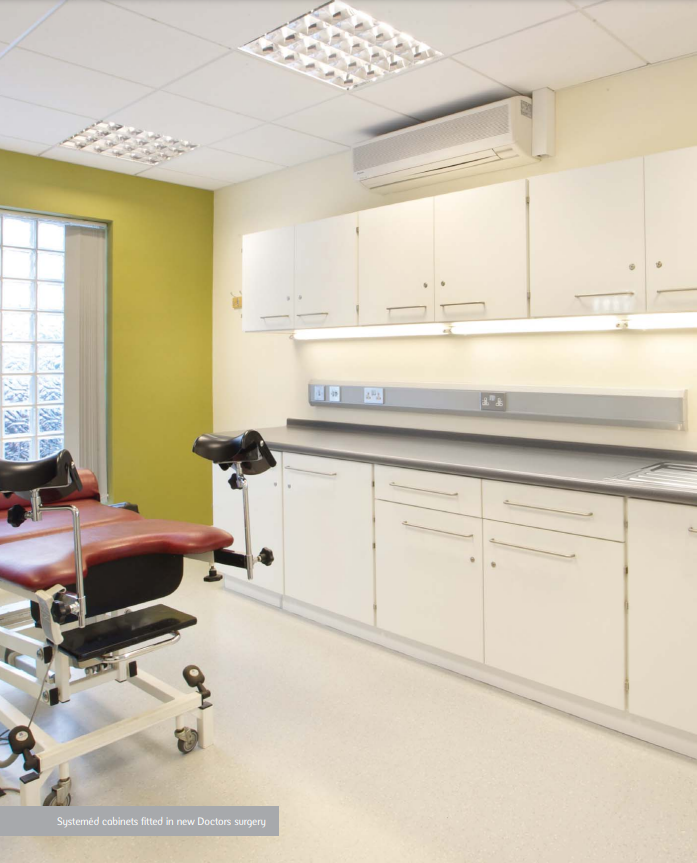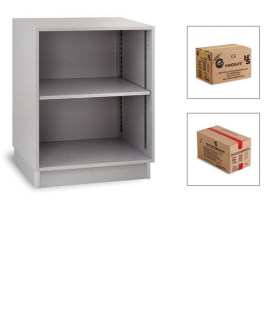 HTM71 Modular Base Cabinets with shelves or drawers, ideal for larger more bulky items. Shelf cabinets can be simply upgraded with support wall or telescopic runners after installation if required.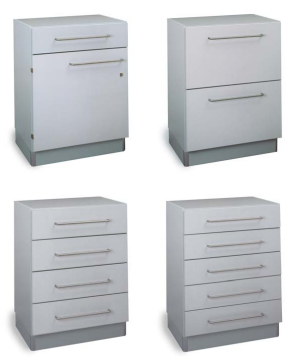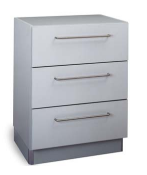 Drawer base cabinets with metal slides and solid bottoms for strength and long lasting trouble free operation. Drawer divider systems are available as options.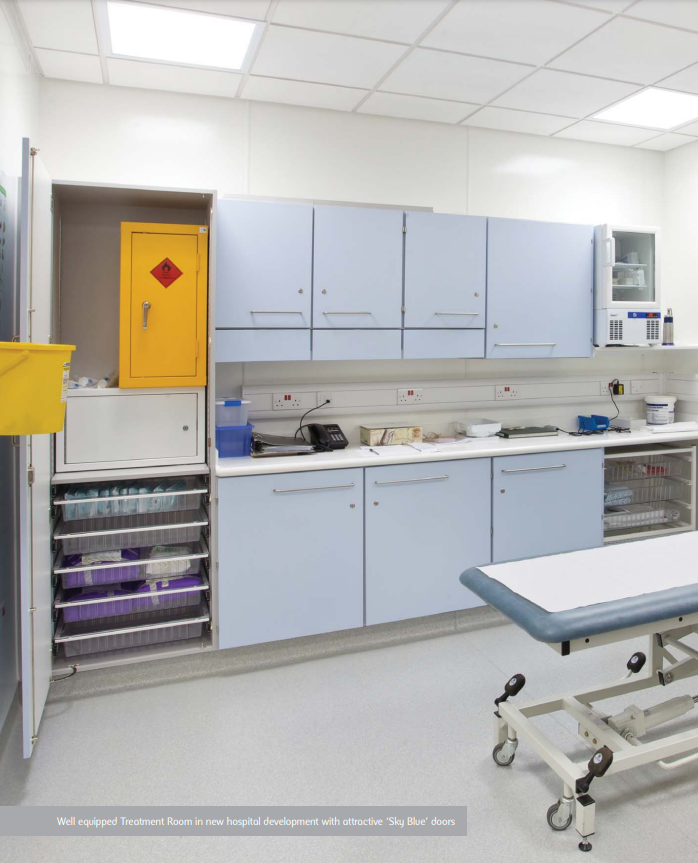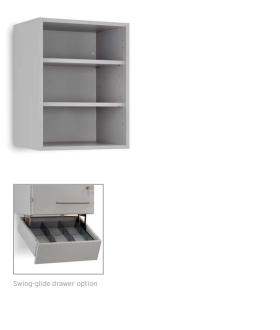 CE16 Storage Of Small/Medium/Large Consumables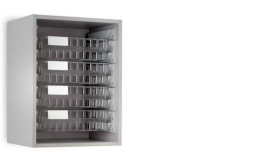 Standard 455mm wide wall cabinet available at two heights. Help reduce worktop clutter with the swing glide drawer option available for the 600mm high unit. CE16 cabinet supplied with half size clear polycarbonate baskets. See section 7 for options and order codes.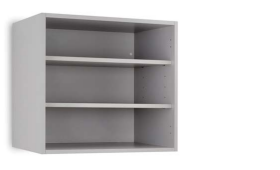 CE18 Storage Of Small/Medium/Large Consumables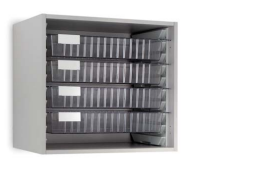 Standard 655mm wide wall cabinet available in two heights and two depths for larger items or over deeper worktops. CE18 cabinet supplied with full size clear polycarbonate trays, See section 7 for options and order codes.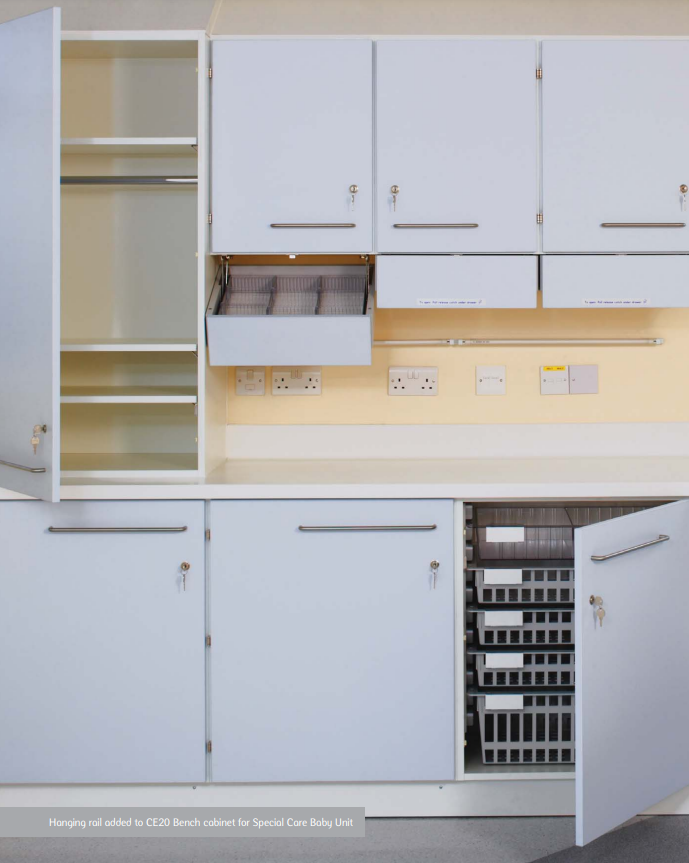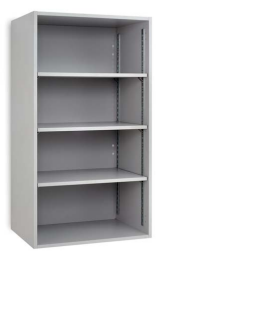 CE20 Storage Of Small/Medium/Large Consumables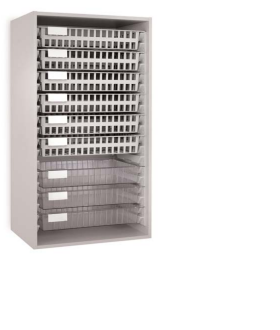 CE21 Storage Of Endoscopes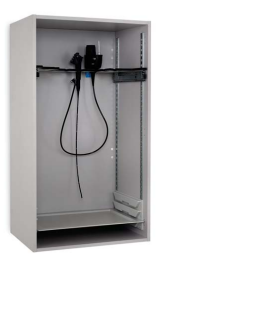 Bench mounted cabinets provide increased storage capacity and convenient worktop ledge to work from. Large photo shows variation with internal hanging rail for a Special Care Baby Unit.