WE DEFINE, WE DESIGN, WE DELIVER
Stirling Medical & Scientific Ltd was founded by Henry Hugh Glass who started with a Degree in Mechanical Engineering and an early career as a plant manager at ICI and then later as a Patent Officer in the Civil service. In the early 1980s he followed his entrepreneur instincts and started his own Construction Company which developed into manufacturing high class joinery products with particular attention to detail.
During the 90's the company's reputation in the medical sector grew stronger and stronger. With the realisation that the healthcare environment had its own set of particular challenges regarding efficient storage and the lack of products available that are fit for purpose, this became the company's main focus.
Many years on, the same approach is still at the company's heart. The range of services and products continues to improve and develop so as to help healthcare professionals give best practice in patient care.
With our experience and expertise from working on 1000's of healthcare projects in the last 25 years, we can help you design and develop a solution to meet and exceed your current and future requirements.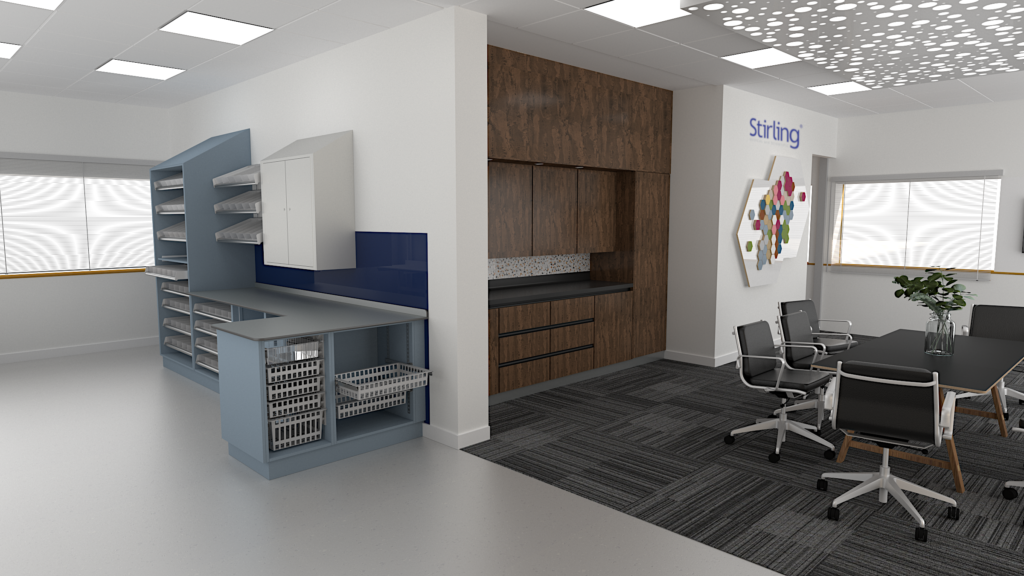 Our dedicated sales and design teams are always available to help you. Our priority is to make sure we understand your specific requirements and provide you with a solution that works the first time. Fully trained and experienced fitting teams ensure the high quality and attention to detail approach are continued right through to handover of the finished product.
Stirling Medical and Scientific Ltd provide products under the brand names of Syteméd™, Esplan™, Virseal™, and WSB Core®.
Abdel is a dedicated and focused individual, always ready to go the extra mile for our clients, to ensure their designs are right and deliver exactly what the brief requires.
Amelia is based in Stirling Medical & Scientifics' South West Office. She is a dedicated member of the Sales team providing invaluable back-up support for all new enquiries.
Andy is proficient in CAD and BIM with over 15 years experience in joinery, construction and machinery programming. Attention to detail comes second nature and ensures a successful project delivery.
Bartos has over 10 years experience of estimating and quantity surveying in the construction industry and brings a wealth of practical and IT experience and knowledge to every project.
Beverley has been working at Stirling since she graduated in 2020, and has quickly developed to play a key role in assisting clients with their enquiries and helping develop solutions for our clients.
Braden is based in the London office and looks after the London and South regions. Hard working and dedicated to his role, Braden will share your passion for a successful project completion and ensure that what is provided is suited for the products being stored and the best solution possible.
Cameron started with Stirling in July 2020 and has embraced the challenge and responsibility of managing Transport and Goods Out, helping ensure goods are delivered on time and in full.
Charlton plays a key part in the efficient running of Production, responsible for procurement ensuring healthy stocks of products are available as and when they are needed, thus contributing to the smooth running of projects and delivering on time.
Danny is a hard working individual responsible for the day to day running of Production. His flexible and customer first approach, ensures products are ready to be despatched when they need to be, in a constantly moving and fast paced environment.
John, a co-founder of Stirling, has an enormous amount of experience and insights into the Healthcare industry, helping consult and develop new schemes for our clients.
Karina is a very capable and efficient team member with a friendly personality and a valuable addition to the company. She helps with taking incoming telephone calls and ensuring customers enquiries are looked after
Kerry works in the finance dept. and helps with customer accounts and credit control. Her professional approach ensures customers are treated with patience and respect.
Kevin is the Managing Director at Stirling Medical and a passionate member of a talented team. A dedicated leader that is always looking at ways to improve and innovate, making things easier and better for our clients and stakeholders alike.
Lex has been working with Stirling for over 8 years. With an eye for detail and experience of working in the healthcare environment he is able to assist with delivering projects on time and to a high standard.
With the increasing demands on customer service, Martin's role is to ensure the smooth running of contracts and installation of all Stirling Medical Projects. Having started his career on the tools, knows what good looks like.
Michael, a co-founder of Stirling, is the technical brain behind the company, helping develop and create new products suited to the current demands and ever changing Healthcare environment.
Nadia has more than 10 years experience of working in various finance positions before she joined Stirling and is a valuable asset to the team. She is focused on helping ensure the company's financial processes work smoothly.
Noel's passion and hands-on approach, with over 15 years experience in the Healthcare industry, helps our clients get it right first time.
Sam is based in the Grimsby office looking after North region customers. Sam's customer first approach always wins hands down, responding quickly to customer demands helping ensure clients get what they need.
Sapphire is a hard working individual, dedicated to supporting our clients in making their journey easier and ensuring tasks are completed before deadline.
Vern has been with Stirling Medical for over 15 years working on numerous projects and in multiple departments within the company, therefore bringing invaluable knowledge and experience to the table, helping ensure optimum results for our clients.
Warwick is a thorough and conscientious team player with invaluable knowledge of what helps deliver a successful project. Primary responsibility at Stirling is to ensure every customer order is valued and handled correctly and progresses through the factory through to delivery at the correct time.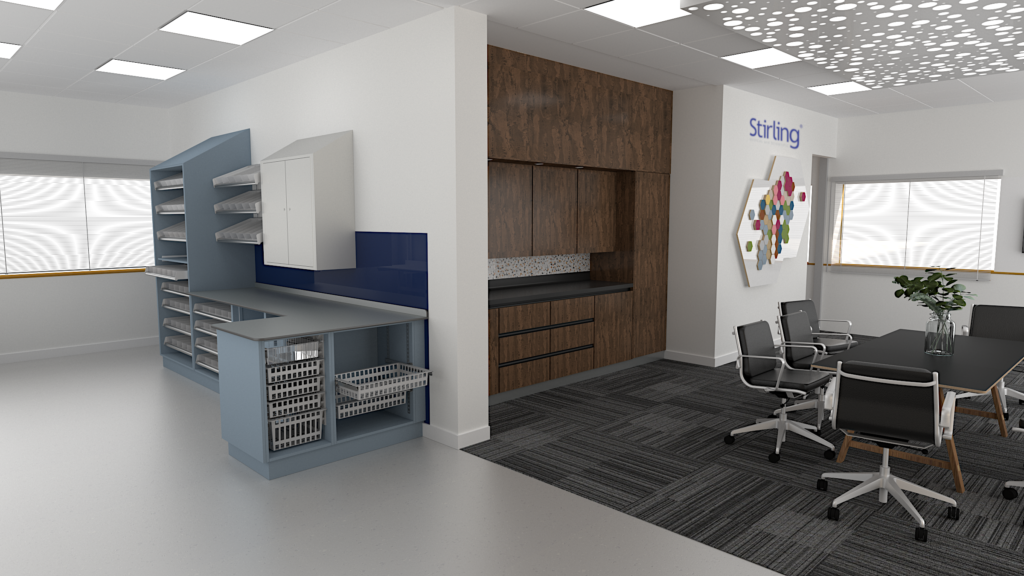 Our London showroom is laid out to replicate specialist medical zones and provides a unique space where Clinicians, Architects and Designers can see real life size examples of HTM Compliant fitted furniture products suited for different hospital procedures.
We also carry a wide variety of product samples to help illustrate the differences between materials with staff on hand to assist with your specific project questions and design challenges.
Conveniently situated a short distance away from Sidcup Railway station, which is only 20 minutes from London Bridge, we are happy to arrange for a pick up and drop off service for booked visitors.
We look forward to seeing you.
Call us on 020 8699 8993 to speak to one of our project consultants.